2019.10.18
Two professionals of dough who let "Kurume cloth with splashed patterns" fuse with uniform of scenic train.
Scenic train "THE RAIL KITCHEN CHIKUGO" which packs with a variety of skill and traditions of Chikugo, and runs. The "Chikugo seal" is carved with to uniform of the staff. "Kurume cloth with splashed patterns" having history of about 220 years is used for race part of dough and shirt of true habe strike.
Cloth with splashed pattern is cotton textiles which it was useful as material of kimono in the whole country. Kurume of the Edo era in particular was the big production center and was called the Japan's three biggest cloth with splashed pattern along with Bingo of Iyo, Okayama of Ehime. However, demand decreases sharply with passage of time. It produces cloth with splashed pattern of large amount of quantity, and it seems to be only Kurume now that the technical succession is carried out.
We want to make use of this precious traditional textile to scenic train by all means. We entrusted Tsuyoshi Shimokawa entrails of weaver "Shimokawa textile" of Kurume cloth with splashed patterns (Yame-shi) and Yuhei Kuroki of "Kuroki bespoke room" which ran dress shop (Miyama-shi) with thought of such us.
What kind of trouble would there be in the other side made with uniform using Kurume cloth with splashed patterns? We heard story from these two professionals this time.
Standard-bearer of reform to record new idea on folkcraft called Kurume cloth with splashed patterns
──"Shimokawa textile"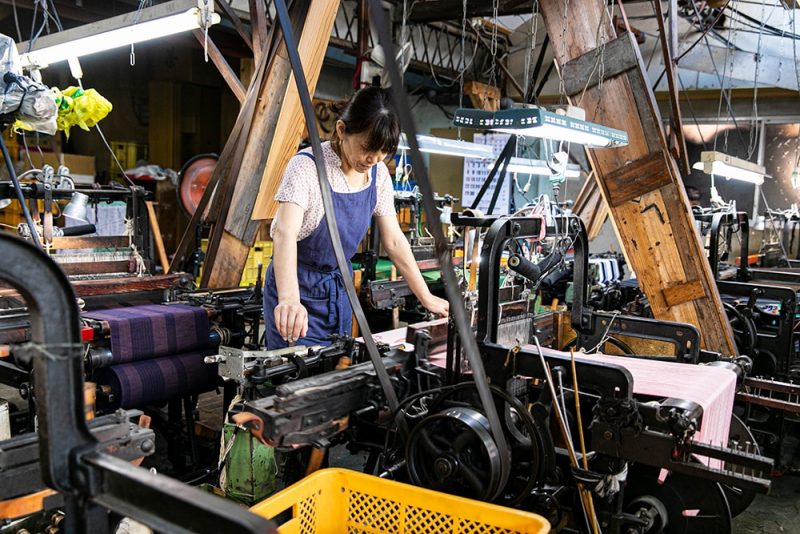 "Shimokawa textile" which spins history 70 years or more. Textile plant worker turned to gashangashan and constant metallic sound with weaving machine earnestly in BGM when we looked in factory with the term of service.
It takes 2-3 months so that one Kurume cloth with splashed patterns is finished, and it is complicated, and manual labor to need perseverance continues in interval of the process. Ability of textile plant worker who added minute adjustment when we found gap not to understand in amateurish estimation let threatening language of craftsman feel.
It is Shimokawa of the present head of a household for the third generation that confided, "we were at a loss in inheriting business as for honesty, the school days". "However, while we learn history and tradition of Kurume cloth with splashed patterns, we are impressed deeply and work on work proudly now".
However, the situation to surround Kurume cloth with splashed patterns does not permit optimism. At the time of 1948 when "Shimokawa textile" was founded according to Shimokawa, weaver of Kurume district counted about 300, but seemed to decrease as 20 houses now. Still we unite together and keep this traditional industry while proclaiming the cooperation system such as sharing technique.
In late years the present head of a household of substitute mixed seasoning 30s-40s challenges the making of new design, and is bright, it showing signs is seen probably because there is the worth when Kurume cloth with splashed patterns is reviewed as material of various items such as stationery. And, in fact, it is Shimokawa that stands in the front line of such a change.
Shimokawa made aim to "express pleasure, splendor of manufacturing through Kurume cloth with splashed patterns" when we inherited the third generation. We establish substantial official site that we can know in detail about Kurume cloth with splashed patterns in order to make that form and send own present situation and information diligently in SNS and. We cope with request for factory tour from the prefectural inside and outside willingly. Active action for such outside was not seen in the past cloth with splashed pattern industry.
Furthermore, collaboration with overseas artist that SNS was realized in opportunity greatly turns consciousness of Shimokawa. "We felt like having been touched their sensitivity and story in the process when we wove cloth with splashed pattern for the cause by design which artists created. When we will communicate in Kurume cloth with splashed patterns then so that musician is connected with world person in musical piece. Kurume cloth with splashed patterns had power that could mediate between culture and tradition between countries. I call this saying "we talk with the warp (tateito) and weft" (when we come). Once a year visits Europe and seems to be still stimulated from various souvenir and people.
"Entrepreneur support" not only to produce cloth with splashed pattern products in-house, and to sell directly, but also provide material to young writer of other industries is novel attempt that is not past. "Woman called Den Inoue devised Kurume cloth with splashed patterns and we taught technique without regret around and spread out. Therefore, to me, Kurume cloth with splashed patterns has image called thing of all. It cooperates with promising young writers in that, and this is because we have you please and are responsive. That, after the fashion of the second generation full of challenge mind, we want to do various challenges from now on. "We can do what and try because we do not want to do only regret without doing it".
Kurume cloth with splashed patterns which caused with such "Shimokawa textile" was chosen as material of uniform of scenic train like the aforesaid. "This uniform should become entrance that is interested in Kurume cloth with splashed patterns. Shimokawa who smiles in front of finished uniform some other time saying what kind of person who will be what kind of dough seemed to weave. And we continued in this way. "This scenic train is thing that relationship and story of people along Chikugo led to one. I was careful with that all the time, and I feel honored to have had part increase us. If new relationship rotates like birth, circle again from here, it will be the best.
"Standard-bearer of reform" that Shimokawa that style of reciting is friendly blows new idea into the world of folkcraft. It is at all a pleasure what kind of achievement in future is developed with a certain possibility-related tool called Kurume cloth with splashed patterns by hand.
"Tailor" who is high sense of Miyama-shi sending discerning order suit off. -- "Kuroki bespoke room"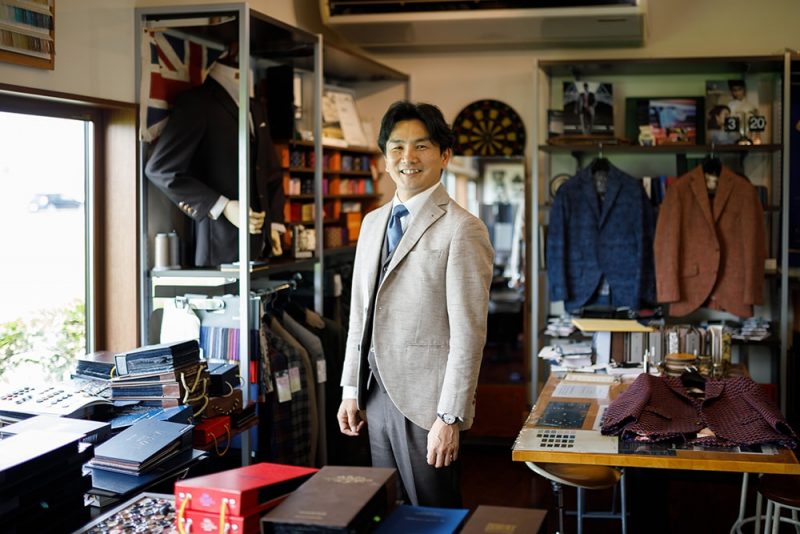 "Welcome from far away". Yuhei Kuroki of owner met when we opened door. In a certain "Kuroki bespoke room", it is founded 1972 in quiet rural district. It is tailor if we talk in a way missing slightly in dress shop dealing with rare order suit in neighborhood. "It is shop which father who acted as manager of sewing factory originally founded. Saying when was given to foreign merchant as factory was the country, took order of suit, and had days to make living in that; Kuroki. We come to gradually have question toward conventional business-style when we inherit the second generation before long. "We noticed that myself was not fun when we did business to customer who did not want suit in particular. We had liked manufacturing from the old days and then decided rather to do discerning tailor who pulled from dough to button.
Thus, in 2008, Kuroki resets business once. The minimum rate sets to fair-priced 50,000 yen (tax-excluded) saying "we want to enlarge made-to-order culture to young person". Location called the suburbs does not have anxiety either and says that rather there is even strength at unlikelihood and point to be individual. Case which people focusing on originality discover here in net recently, and comes saying "he/she seems to make good clothes" is increase. Careful work to be careful to the details was popular and, around North Kyushu, came to have customer in Tokyo or Osaka.
This work includes unique difficulty in this way while we came to be able to enjoy free manufacturing. That get ideal in head of customer precisely. As there is not finished product, as for the order suit, only image that customer was vague to Kuroki is often reported like ready-made article from beginning. However, we scoop piece of words of customer, and joy when we sewed suit more than expectation seems to be particular.
Suit enthusiast great as for Kuroki "whom it is also pleasant for to have a hard time for joy." "Suit itself has various history and stories, and fun except wearing understands that we dig there down. We interpret these traditional clothes how, and that you tell in the next generation is future theme. The making of suit of Kurume cloth with splashed patterns letting you work as Kuroki during dream for these past several years seems to give there one answer.
Kurume cloth with splashed patterns which is extremely specific for cloth for suit. When ask reason that chose this;, "in fact, there was always inquiry "can jacket not speak in Kurume cloth with splashed patterns?". Therefore there was thing better than expected if we made tuxedo for trial and has begun to deal positively from there. As it is cotton, we can wear all year, and it is wrinkle-resistant, and presence does not take close to Italian high-quality material, too. "Clothes of cloth with splashed pattern are sorufashon where Seoul foods do not become"…This material attracted Kuroki in a moment. "Tailor making suit with cloth with splashed pattern will be us in the whole country. But reaction is excellent. We are lionized if we wear to business trip destination, and it is pleasant to enjoy local story from there.
Of course reason why story of uniform of scenic train came was right here. Technique that was special to sew clothes was necessary for cloth with splashed pattern, and cooperation of the company experienced by all means was essential. When as "production period falls on year-end busy season, I intended to decline, but, after all, material wants to do Kurume cloth with splashed patterns. This was the first time that that could do collaboration with professional designer of Tokyo and was attractive. By the way, it is Kuroki that recommended "Shimokawa textile" as provider of material. Friendship was born 7-8 years ago and seemed to always appreciate modern design sense.
Production of uniform continued until just before the service start and became race against time. As "we always felt lost, it was great work. Still we think that what a lot of provided things can be concerned with was good. And as is position that we work by chance in Chikugo, little, spread area culture; if can contribute, is honored.
Kuroki who enjoys work thoroughly while working on fusion of East-West outfitting culture, and pours passion into the making of suit. Suit love to be blurred in some points of words was impressive person. We want to order the first place whether it is suit, when of Kurume cloth with splashed patterns that such thought was jam-packed.
Two people who gave that "we enjoyed manufacturing" in what we regarded as important in working strangely. Insatiate greed for creation and sporting blood would bring new route to Kurume cloth with splashed patterns. We had the respect for both classic and modishness, and if "there were these two people, the world called Kurume cloth with splashed patterns became more interesting", and, in posture that continued challenging by taking advantage of large field of vision and flexible thought, there was thing which let you strongly have a foreboding which -- went along.
[INFORMATION]
■Shimokawa textile
Address: 1111-2, Tsunoe, Yame-shi, Fukuoka (MAP)
Phone number: 0943-22-2427
HP: https://oriyasan.com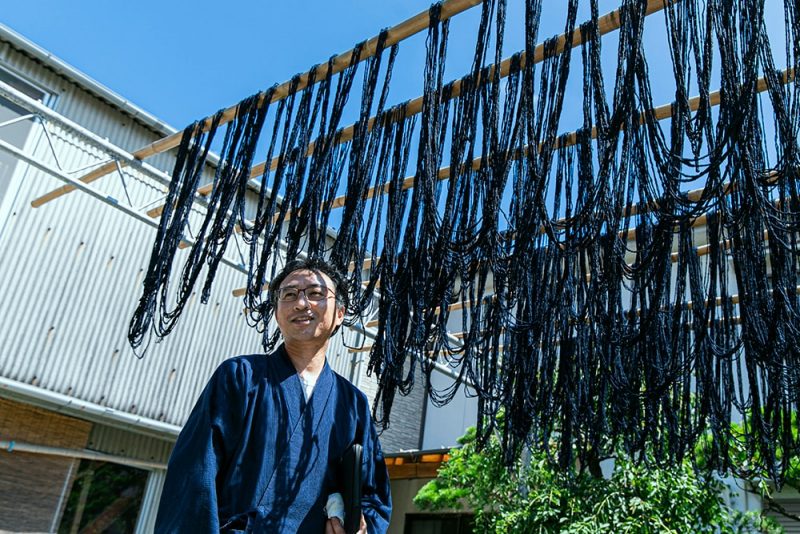 ■Kuroki bespoke room
Address: Takazecho, Miyama-shi, Fukuoka Takayanagi 223-1 (MAP)
Phone number: 0944-63-5867
Business hours: 10:00-19:00
Holiday: Wednesday, holiday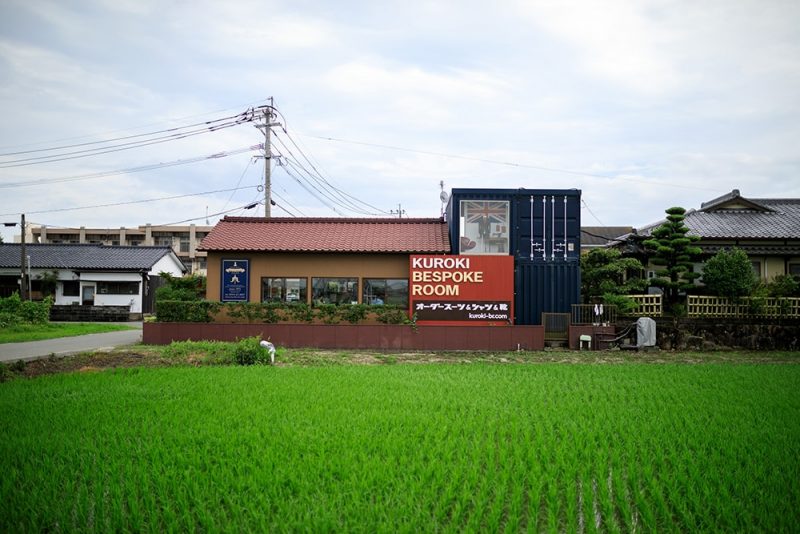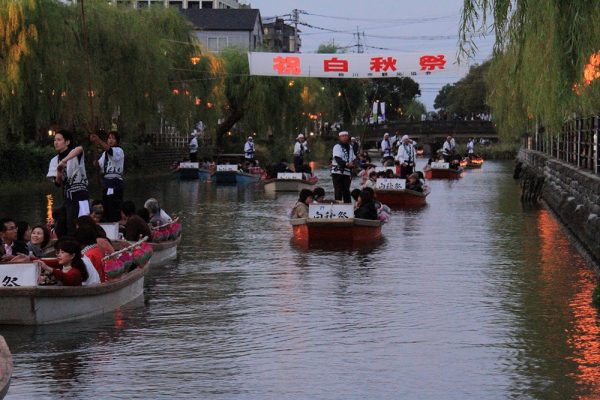 Relationship of waterside that fantasy space white autumn festival that night moat produces links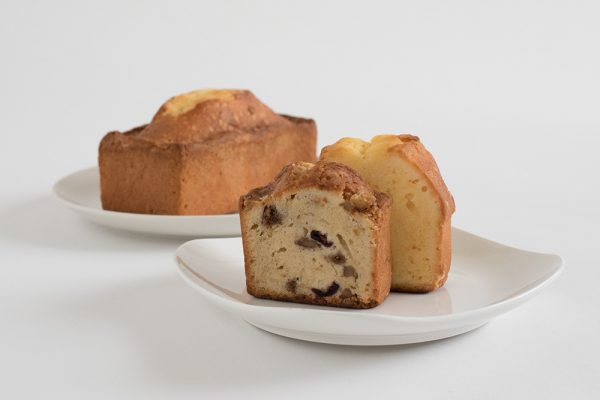 Pound cake
RECOMMEND POSTS
Recommended article